Biking is the one activity that my family usually agrees on. We get to explore the city and get fit at the same time. Here are some of our fave places to bike in Montreal:
5 FABULOUS MONTREAL BIKE PATHS:
1. PARC FRÉDÉRIC-BACK
Frédéric-Back Park is a large urban park that's part of the Complexe environnemental de Saint-Michel, an old quarry turned park that also includes the Stade de Soccer, TOHU circus centre and Taz Skatepark. It's 192 hectares with a 5.5 km bike path. Translated into family language: it's not too big and not too small. It's a great place for a family adventure, plenty of parking and lots to see. Check out the soccer stadium, play at Taz's outdoor park or join in whatever's going on at the outdoor belvedere Parvis Papineau… line dancing, Zumba, you name it.
For biking itself, it's an easy ride with fun hills to go up and down. Most notable are the 250 alien-like white spheres dotted throughout the park. The sci-fi structures are biogas wells, a renewable energy system. They softly glow in the evening and are an interesting sight to see.
Scenic route, family friendly AND alien balls?  It's the perfect combo for a great biking adventure.

2. Parc-nature du Bois-de-L'Île-Bizard
At the northwest part of the island of Montreal sits Bois-de-L'Île-Bizard nature park. It's a long-time favourite of ours. Bordered by Lac des Deux Montagnes and the Rivière des Prairies, the park includes 7 km of hiking and cycling trails. We love the wooden walkways that allow you to explore the wonder of its marshes and swamps. Our favourite Grand Passerelle is temporarily closed but there's still plenty to see and discover. A small beach located on a Lake of Two Mountains Bay provides a nice resting spot and the newest addition, Pointe-aux-Carrières lookout is perfect place to enjoy the sunset. Pack a picnic and enjoy your time here. You'll feel as if you've escaped to another place even though it's only 25-minutes from the city.
3. Lachine Canal Bike Path / René Lévesque Park
The Lachine Canal Bike Path starts in Old Montreal and runs 13.5 km to Lachine. It offers a glimpse of Montreal's diverse landscape, green spaces coinciding with the historic feel of the Old Port and the modern skyscrapers of downtown. There is so much to see and eat along this popular route. Kickstart your adventure by grabbing sandwiches and snacks at Olive et Gourmando or Le Cartet, then head to the Atwater Market to discover its many food stalls including Satay Brothers with its long line-ups and addictive Singaporean fare. If you haven't overdosed on food, power on, enjoying the ride along the canal until you've reached the end in picturesque Lachine. Reward yourself with an ice cream at Les Quai de glaces then happily retire at René Lévesque Park (which we've nicknamed "Dead Fish Park", read why here)
René Lévesque Park sits on a peninsula that offers views of the St. Lawrence River and Lake Saint-Louis. There's plenty of space to enjoy a picnic, toss a ball, play frisbee or simply relax and take in the view. For art lovers, the park boasts a collection of more than 22 artworks presented by the Musée plein air de Lachine. It's one of the largest outdoor sculpture museums in Canada. You can get in touch with your arts & culture side or strike a pose and snap pics for your Instagram.
This happy bike route allows you to check off sightseeing, gourmet eats and being an art connoisseur all in one!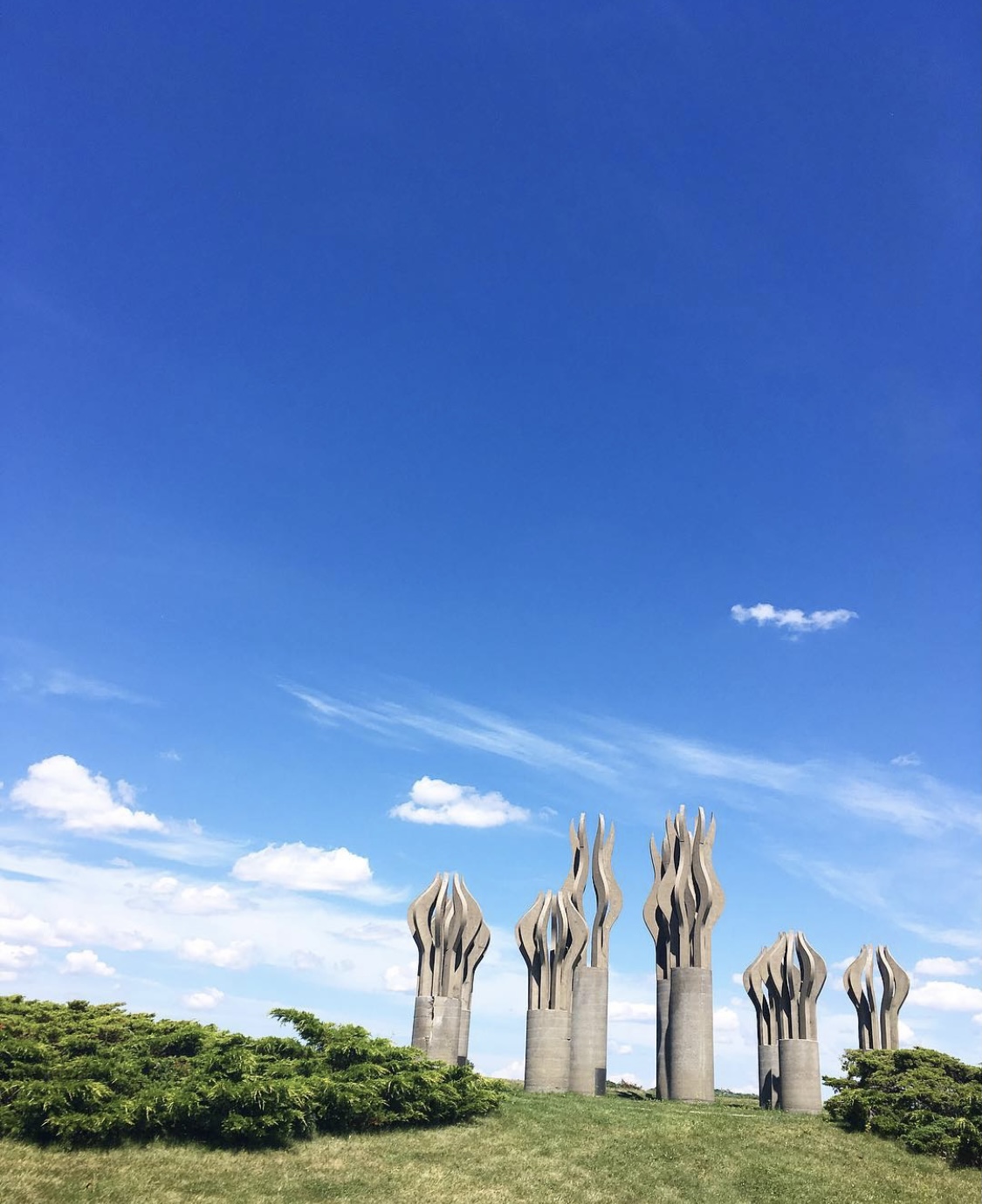 4. Estacade du Pont Champlain
To the right of the Champlain Bridge sits the Estacade, a cyclist-friendly bridge that spans the river and offers another unique biking experience. Running parallel to the Champlain Bridge, Estacade starts from Nuns Island and connects to Voie Maritime, narrow strip of land between the seaway canal and the river. Once you've reached the Voie Maritime you may venture left to continue to Parc Jean-Drapeau or proceed right to discover Sainte-Catherine. The bike path is car free and provides scenic nature views. If you've chosen the Sainte-Catherine side, you'll find RécréoParc and may enjoy a beach break before heading back.
It's a great route, but just be warned it may not be as family-friendly as the above options. Being high-up above the river on the Estacade bridge may be intimidating and scary for younger kids. Plus, once you head out, it's a long way back. Be sure to pack plenty of snacks and patience,

5. PARC JEAN-DRAPEAU
A quick 5 minutes from downtown Montreal, the park comprises of two islands, Ile Sainte-Hélène and Ile Notre Dame. It's a lush oasis filled with plenty of things to do (read more here). We love it for biking, as there's so much to explore within the two islands. For racing enthusiasts, on Ile Notre Dame you'll have your Formula 1 moment by biking circuit Gilles-Villeneuve, site of the Formula 1 Grand Prix du Canada. Be warned, the cyclists are FAST here. Stay on the side and you'll be fine or opt for a slower pace by venturing to the interior of the island. Here you may discover the idyllic Jardin Floralies or cool off at Jean-Doré Beach. There's also a quiet bike path by the water with great views of the Montreal skyline. With all that biking you'll need a snack break. There are plenty of spots for a picnic or head over to the Ile Sainte-Hélène side and find the Bistro-Terrasse for a quick bite.
Also on Ile Sainte-Hélène, you may discover a collection of public art (dispersed throughout both islands) and the newly reopened Biosphere. Parc Jean-Drapeau is a Montreal gem and a great place to enjoy a summer afternoon.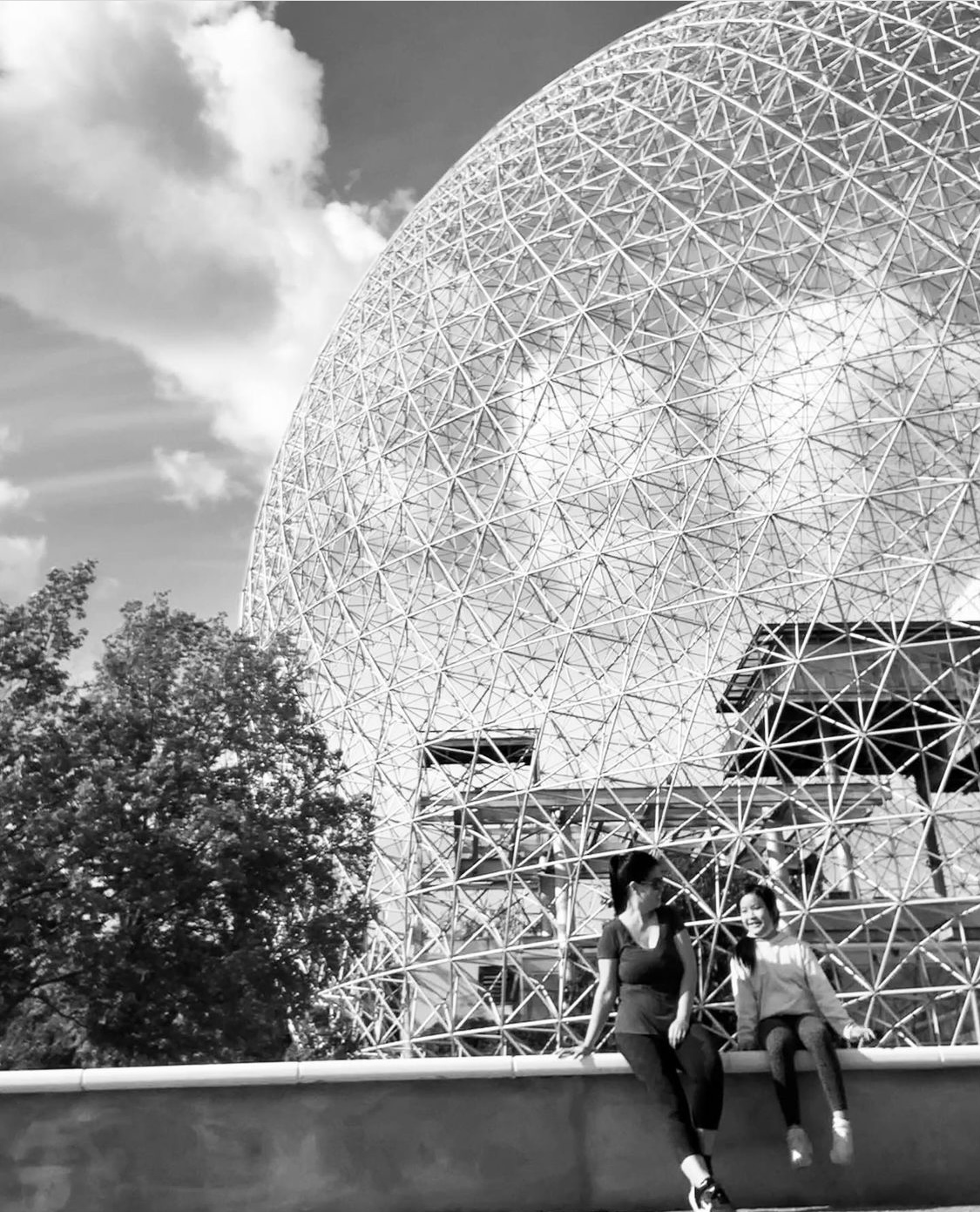 If you have any favourite biking trails to share, do let me know!