Tuti Do
President & Owner, Rev Communications
By day and most nights, I run Rev Communications, a boutique PR, marketing and events agency. At the center of my life are my husband , my two kids and our little bunny Kobe. My obsessions include colour-coded spreadsheets and ice cream.  I often imagine myself escaping to some exotic paradise, but in reality you'll find me happily in my kitchen with the music blaring away.

How do you define joy?
Any moment that makes my heart smile.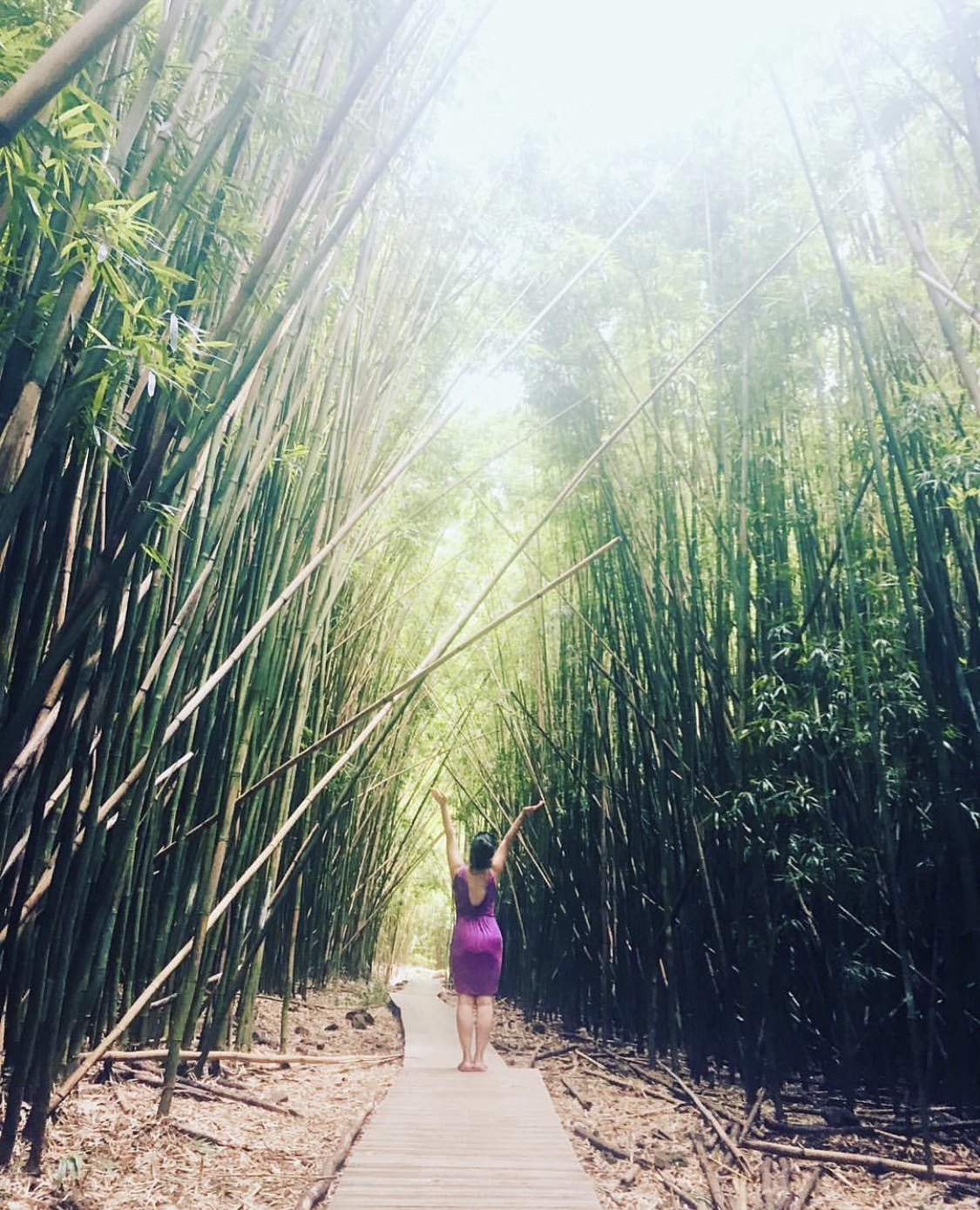 What's your happiness secret/tips for creating a joyful life?
Having gratitude for the gifts bestowed in your life. Constantly keeping yourself in check about what really matters. Surround yourself with good people.  Make an effort to create your own happiness. Savour the little moments. Have more ice cream.

Share a favourite joyful memory
Our Pacific Coast road trip two years ago: my kids singing with wild abandon at the top of their lungs, watching them run together on the beach, randomly finding a Chinese lion statue in the middle of the desert, driving on the beach (getting stuck in the sand), glamping in the canyon.
Who's your happiness role model?
My kids. Sounds corny but they truly have shown me what's pure happiness. It's incredible to experience the world through their eyes, to enjoy simple pleasures with them. Love how they constantly surprise me and make me laugh. Kids humble you and have you appreciate a whole new perspective of life.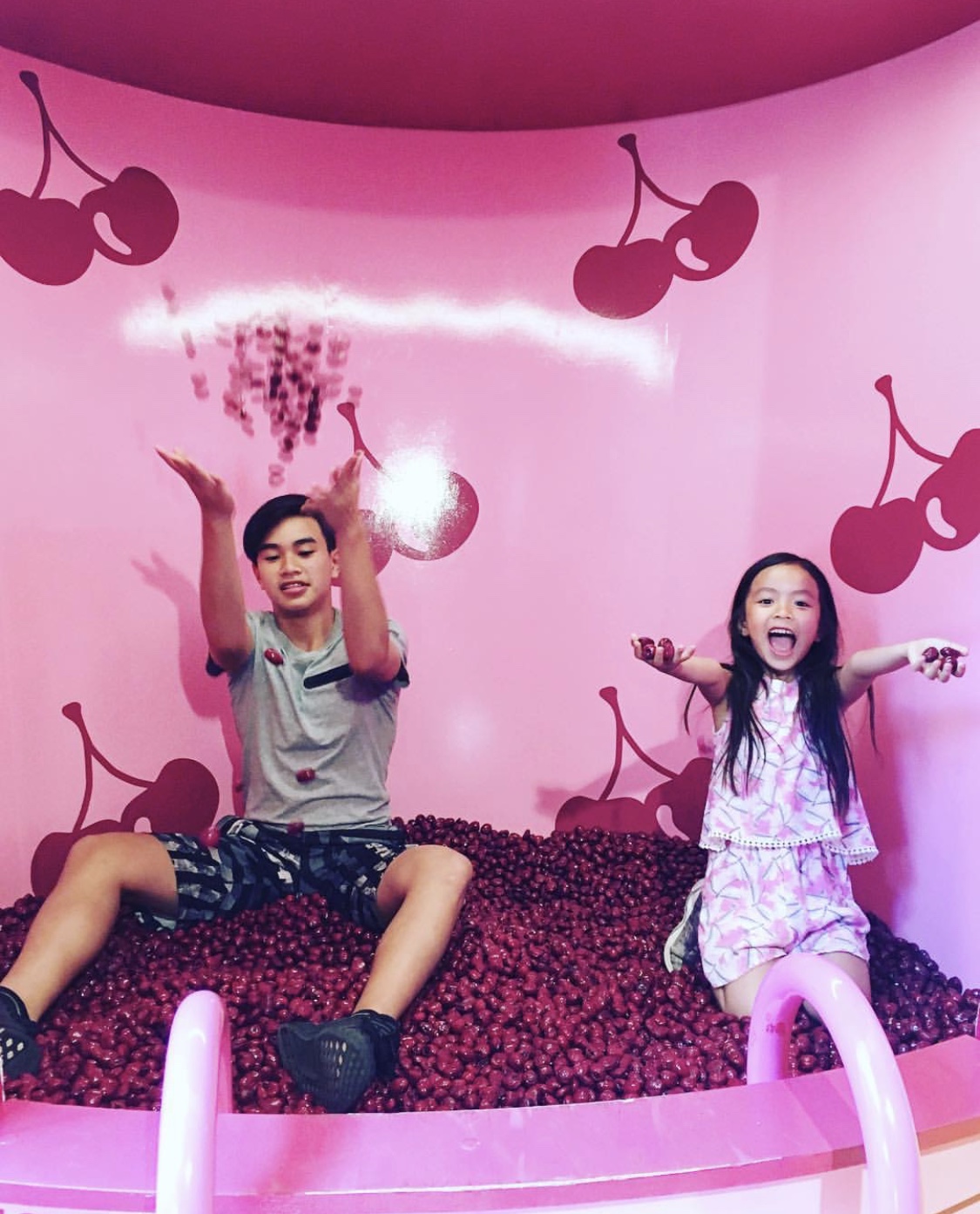 Where's your happy place?
To clear my head, I always imagine myself back at Ke'e Beach in Kauai. It's a little beach at the farthest end of the north shore. Although it's been 20 years since I've been there, I still vividly see my rainbow fish in the clear water and the wild chickens strutting by on the beach.  Outside my imagination, my other happy place is being with my bunny Kobe. We hang out, listen to music and he entertains me with his little twitching nose and crazy antics of acrobats and zipping around the room.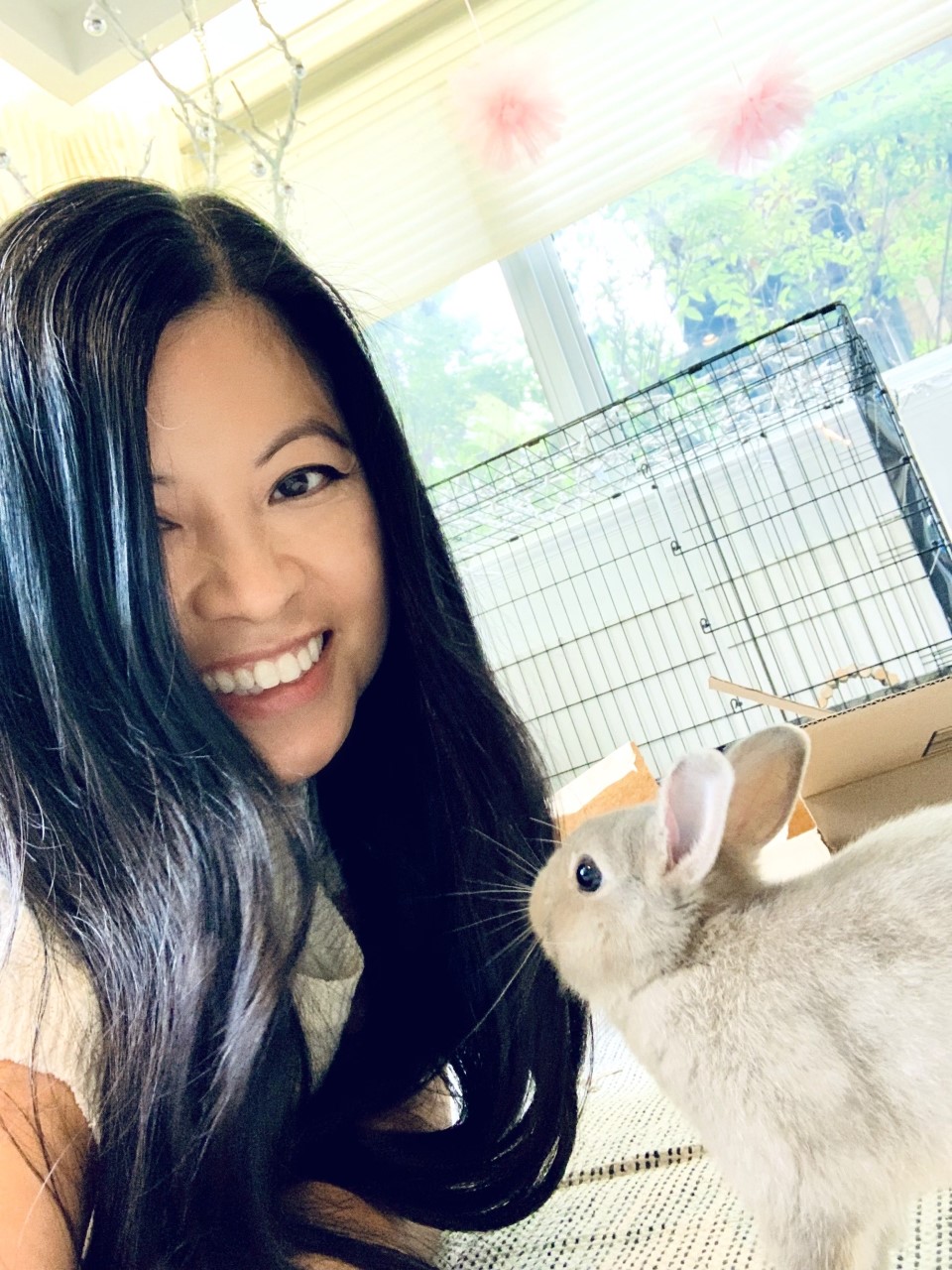 What inspires you most?
There's not a particular thing or person for me. I believe there's inspiration to be found everywhere. You just have to open your mind to see it. People, places, everything holds inspiration to some degree. These various elements all profoundly touch different aspects of my life.
What made you happy when you were a child?
Being together as one big crazy family. I grew up surrounded by my aunts, uncles and cousins. We had to play together whether we liked it or not. It was amazing how we kids could entertain ourselves with just our imaginations. Plus, if our parents allowed us to go to the big park by ourselves it was a complete score! Oh, and ice cream… whenever we chased down the Dickie Dee ice cream guy… it was pure happiness. Actually, that would still pretty much do it for me now.
What's your go-to remedy to brighten your spirit
Love the quote, "stay close to people who feel like sunlight." My friends, family, the wonderful people I've worked with – they are all my sunshine. I'm blessed to have many amazing people fill my life with laughter and also food. So to brighten my spirit, just give me someone I love combined with something to eat = instahappy!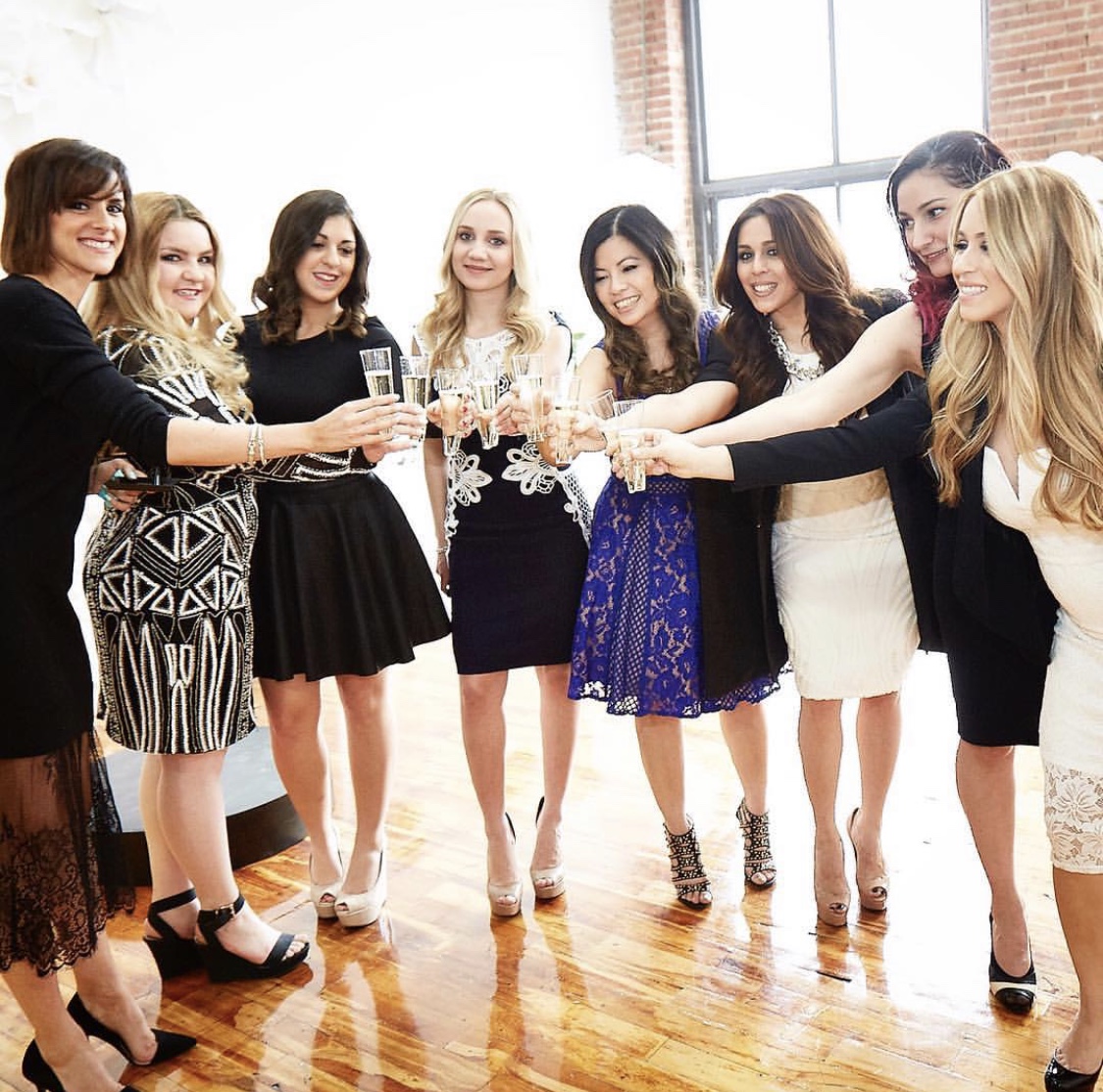 What did you sacrifice for greater joy?
Early in my career, I sacrificed prestige and a high salary to follow my dream of working in fashion (complete with a glorious cubicle). Ten years in, I sacrificed my head of department position to start fresh – with no pay and a baby in tow, to build my own company. Three years ago, I gave up my much loved office to re-prioritize myself and my family. None of these decisions were easy. They don't always make sense to the people around you, but you have to trust your own instincts. Whatever I sacrificed brought me new fulfillment in ways I could not even imagine. Following my passion allowed me to fast-track my career. Taking a leap of faith, opened the doors to countless opportunities. Saying good-bye to something I loved, gave me time to give more TLC to myself and my family. It comes with a cost, but the joy is worthwhile.
What's your dream and how are you aspiring to get there?
To bring people together in joy and celebration. And right here, Joy & Joie… this is my first step.

 JOY & JOIE MUST-HAVES
Ice cream – It's insta-happiness for me. It's the only thing I'll stand in line for or travel out of my way for. My fave places are Kem CoBa in Montreal, Moo Shu in Ottawa. Salt & Straw in L.A.

Food – Not just the food but who I'm sharing it with. My forever happy memories range from eating lobster off a cardboard box to sharing a Hong Kong style lobster mountain at Fishman Lobster Clubhouse. Other happy meal memories include Momofuku for crack pie and Nick Jonas (Kayla!), salmon chirashi lunches at Nozy, weekly sushi nights before my brother moved away, spaghetti with black truffle at Foiegwa, thai food at Maeman, homemade poutine at The Bluffs, seafood nights at home. I'm also full of joy if you just give me a fresh coconut.

Tea time – I could drink tea all day, there's something about a cup of tea that soothes me. Sounds so simple but it makes quite happy. Love my loose-leaf tea or if I'm in a sugary mood, bring on the bubble tea (hello Boba Guys and Chatime). When my agency had DavidsTea as a client, I practically reinvested the income we made right back into buying more tea! I have ever-changing teas of the moments, but my go-to-faves are DavidsTea's Guangzhou Milk Oolong and Sloane's Heavenly Cream.

Spas – Don't go as often as I wish but I am a sucker for massages anytime. My fave spa time was when I somehow scored the Bathhouse Spa in Vegas all to myself. Not a single soul, it was pure bliss! Also love the spa at The Beloved in Playa Mujeres and closer to home, I could stay forever in the luxurious massage bed at Four Seasons Montreal.
Plants – Calla Lilies are my fave. Magnolias in Spring. My kitchen orchids. Water lilies blooming in a quiet lake. Any of my plants coming back from the dead. I'm notorious for killing plants, and it brings me such joy when I see they are resilience enough to fight their way back and bloom again.

Sparkly lights and all things colourful – Love to find those little escapes. Driving with around with me you'll often hear, "Omg what is THAT?!? Stop the car!" as I'm always on the hunt for a new discovery. I love The Color Factory, Yayoi Kusama art installations, giant Christmas trees, Vegas by night, vibrantly painted sidewalks at Dix30, urban graffiti at Wynwood Walls in Miami, even my pink terrace at home. Now throw in some ice cream too and it's over!

Bringing visions to life – It can be a home reno project, an event or a client project. I get such a high from seeing that picture in my mind turn into reality. I love pushing my creativity and ability to the limits. One for the records is the Mommy x Me event I created with my girlfriend Sonia. We envisioned it and knew it could be accomplished no matter how many people warned us that our 1 month timeline was insane. The crazier the experience, the better the tales!

Nature (minus the bugs) – Pure joy is finding a waterfall, staring at calm turquoise waters or being somewhere hidden in the Arizona desert. Some of my faves: Polihale Beach, Kauai with its dirt road and 17 mile beach; The Florida Keys; Albion Falls; The Dunes at Sandbanks Provincial Park; the cove at Ahihi-Kinau Natural Area Reserve, Maui; El Matador Beach, Malibu at sunset.